• Holds most backpack blowers (see listing…
• Fast and easy to load and unload.
• Attaches to both upper and lower rails of trailer for increased stability.
• Locks blower with a standard long shackle padlock (not included).
• Durable powder coat finish.
Introductory Pricing - $54.95
Only available directly from Trimmertrap. Call at (800) 279-8727 and we'll make sure you get your products quickly and easily. If you have a question or special request, just click here and fill out our short form detailing your question. We'll get back to you promptly.
Call us at (800) 279-8727
Click here for our Question / Special Request form!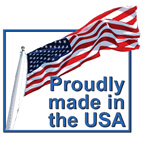 >