Even intelligent, well educated people sometimes don't know the difference between a two-stroke and a four-stroke engine. End the risk and confusion of not knowing which fuel goes where once and for all.
Purchase Diesel Fuel Tags
$15.95
Purchase Gas Fuel Tags
$15.95
Purchase Mixed Fuel Tags
$15.95
These anodized aluminum tags provide three visual means for identifying the proper fuel for each piece of equipment. You do not even have to be able to read, just match the color and shape. Simply attach the appropriate tag to every tool and each fuel can. Workers can now easily identify the proper fuel when re-fueling. An investment of only a few dollars can save hundreds of dollars by preventing a simple mistake.
NOTE: Fuel I.D. tags are even more important now with four stroke engines that require "mix" fuel.
Sold 10 like tags per pack.
If you're not sure where to purchase our products, give us a call at (800) 279-8727 and we'll make sure you get your products quickly and easily. If you have a question or special request, just click here and fill out our short form detailing your question. We'll get back to you promptly.
Call us at (800) 279-8727
Click here for our Question / Special Request form!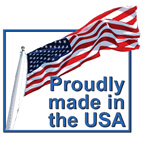 >