Instructions

• KK-1 Kreeper Keeper Instructions

Videos
• KK-1, video 1
• KK-1, video 2
MSRP - $ 89.95
Patent # 6382891
This simple, yet ingenious device will eliminate expensive damage to your equipment by preventing it from rolling around in the truck or trailer. It is simple to install; simply attach the provided bracket to your mower or other equipment. Next install the connector pin assembly into the floor. Once the mower is in place you can raise the connector pin and slide it onto the mower bracket them secure it with a lynch pin. When not in use the connector pin recesses into the floor and out of the way.
• For added security against theft you can replace the lynch pinwith a standard padlock.
• Extra heavy duty construction stands up to the rigors of daily use.
• Plated finish assures rust and corrosion resistance.
• Designed to work on varying floor thicknesses.
• Includes installation hardware.
• The bottom of the mower deck can be up to four inches above the floor when the connector pin is installed into a 1 1/2" floor.
If you're not sure where to purchase our products, give us a call at (800) 279-8727 and we'll make sure you get your products quickly and easily. If you have a question or special request, just click here and fill out our short form detailing your question. We'll get back to you promptly.
Call us at (800) 279-8727
Click here for our Question / Special Request form!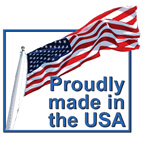 >