Instructions
• LH-1 Line Holder Instructions
MSRP - $ 42.95
Neatly stores trimmer line out of the way, yet accessibly. Tension on the spool prevents line from unwinding until you need it. Easily installs on the TT-1 and TT-2 Trimmer Racks or just about anywhere else. Holds most spool sizes.
If you're not sure where to purchase our products, give us a call at (800) 279-8727 and we'll make sure you get your products quickly and easily. If you have a question or special request, just click here and fill out our short form detailing your question. We'll get back to you promptly.
Call us at (800) 279-8727
Click here for our Question / Special Request form!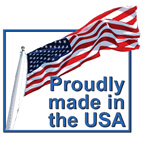 >