MSRP - $ 4.95
Highest quality stretch cords, 24" long, originally developed for the trucking industry. 100% latex center protected by a double sheath, anodized hooks. This heavy duty stretch cord will outlast several of the variety store stretch cords.
If you're not sure where to purchase our products, give us a call at (800) 279-8727 and we'll make sure you get your products quickly and easily. If you have a question or special request, just click here and fill out our short form detailing your question. We'll get back to you promptly.
Call us at (800) 279-8727
Click here for our Question / Special Request form!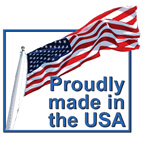 >