SR-1 Backpack Sprayer Rack
MSRP - $ 119.95
Patent # 6053339
Backpack sprayers are difficult to deal with when not being used. They fall over and slide around in the back of your truck, spill, and get broken and run over by other equipment. The SR-1 will prevent all of these problems. Works for most Solo, Lesco, Echo and other brand sprayers with the round tubular frame. Heavy gauge 1 1/2" square tube provides super strength and the plated finish resists chemicals. Our RC-Rubber Clamp is perfect for securing sprayer wands.
If you're not sure where to purchase our products, give us a call at (800) 279-8727 and we'll make sure you get your products quickly and easily. If you have a question or special request, just click here and fill out our short form detailing your question. We'll get back to you promptly.
Instructions

• SR-1 Sprayer Rack Instructions
Videos
• SR-1, video 1
• SR-1, video 2
Call us at (800) 279-8727
Click here for our Question / Special Request form!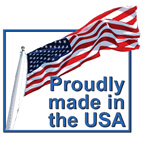 >